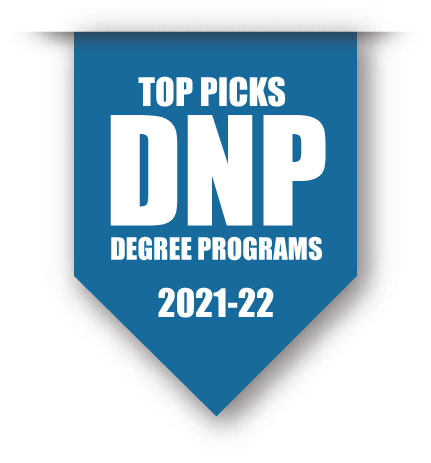 A DNP says a lot about anybody who holds it. Earning one puts you in the top-tier of expert nurses, denoting the kind of in-depth knowledge, analytical skills, and practical clinical prowess to set you apart as an unquestioned leader, whether on the clinic floor or in the upper echelons of hospital management.
The DNP touches on things that are within the domain of a standard doctorate, like research, lab skills, experimentation, and documentation; and while those skills are valuable, it's really the advanced practical, systems-thinking, decision-making, translational, and leadership-oriented studies that comprise the DNP core that elevates graduates to a whole other level of practice.
Earning your place at that level takes a lot of time, energy, and money, and with an investment like this it just doesn't make sense to compromise. If you think you've got the chops to earn a prestigious degree like this, then it makes sense to earn it from the best school you possibly can.
That's exactly what you'll find here.
Could the DNP Soon Be the New Minimum for NPs and Other APRNs?
While DNP nurses tend to be found only at the pinnacle of the nursing profession today, in the near future there may be a lot more of them around. The American Association of Colleges for Nursing (AACN) has launched an effort to make the DNP the entry-level credential for all advanced practice RNs.
There's a strong argument out there that a doctoral degree makes sense for APRNs. They often have prescriptive authority and offer many of the same diagnostic and procedural services as doctors do. In the constant quest to get state-level practice authority across the country in full alignment with the education and skill APRNs bring to the job, requiring the DNP may offer a definitive solution and an end to the debate once and for all.
In fact, nurse anesthetists have already made that jump: effective 2025, the NBCRNA will only certify new nurse anesthetists that hold a DNP, and since 2015 the Council on Accreditation only grants accreditation to doctoral programs.
With these kinds of changes on the horizon, it's even more important to earn your degree from one of the best schools in the country.
<!- mfunc search_box_body ->
<!- /mfunc search_box_body ->
<!- mfunc feat_school ->
Post-BSN and Post-MSN DNP Degrees
You'll select a DNP entry-point based on the degree you currently hold.
You'll find both options offer tracks in either advanced clinical practice or in an aggregate/systems/organizational focus like administration or informatics.
Post-BSN (BSN-DNP) – Designed for students who have completed a bachelor's degree in nursing (or, occasionally, other fields).
Tracks available to prepare students for APRN licensure and certification in one of the designated APRN roles (nurse practitioner, clinical nurse specialist, nurse-midwife, nurse-anesthetist)
Tracks available in aggregate/systems/organizational focus areas
Combines masters and doctoral studies, with programs often conferring both a master's and doctorate
Post-MSN (MSN-DNP) – Designed for current APRNs and other MSN-educated nurses who currently hold a master's and wish to move up to a DNP.
Typically leaves out the specialty-specific training master's-prepared nurses have already undergone in favor of advanced clinical and leadership skills
Tracks available in advanced practice or in an aggregate/systems/organizational focus
How We Picked the Top Doctor of Nursing Practice Degrees in the United States
It's not easy to quantify greatness in higher education. For the uninitiated, a doctoral degree of any kind is an impressive thing. And while we agree with this general sentiment, we've spent enough time comparing programs and recommending options over the years that we know the elements of a program that need to come together to provide an exceptional student experience, and produce exceptional practitioners.
<!- mfunc search_btn -> <!- /mfunc search_btn ->
Every program has a personality colored by the culture of the school, students and instructors, local healthcare providers, and the broader community, and that's one of the great things the college experience can give students. We're not looking for programs that conform to a mold, but we have identified a handful of things that we feel every true top-level DNP program has in common.
Specialty Accreditation
Although we have aimed a lot higher than just finding accredited schools for our list, we have come to believe that accreditation is the perfect starting point. That means every school we considered for our list has earned accreditation from one of the two specialty accreditors that evaluate and accredit graduate-level nursing programs in the U.S.:
Both agencies are recognized by CHEA (Council for Higher Education Accreditation) and the Department of Education as having the capacity to validate the quality, effectiveness and outcomes of DNP and other graduate nursing programs. They maintain close ties with both professional nursing groups and the overall healthcare industry to ensure that their criteria for evaluating curriculum, instruction and clinical placement opportunities are closely aligned with the demands and practices in the field.
Schools have to offer up reams of documentation and undergo thorough on-site evaluations before qualifying. And after that, they have to undergo periodic reviews regularly to keep their status.
Put together, it all represents the baseline that healthcare organizations have come to expect out of highly trained DNP graduates, and for that reason we considered it the baseline for any school worth being considered for our list.
From there we moved on to the less-quantifiable, more nuanced aspects of our selection process; the ones looking at factors that really separate great programs from the ones we could confidently call the very best.
Instructor Experience and Qualifications
Your experiences as a student are only as impactful as the people you interact with…The curriculum is only as effective as the person presenting it… The clinical practice you participate in is only as meaningful as the guidance you receive.
All this is to say that the single most important consideration for a DNP program really should be the quality of the professors and other instructors.
We looked not only for instructors who have decades of nursing experience on the clinic floor; we also preferred schools where the professors are still engaged in active practice. Keeping up with the state-of-the-art in advanced nursing practices requires actually putting those skills to use on a regular basis. There's nothing like learning procedures from someone who is still doing them, and gaining perspective from someone that's living the experience first-hand.
But even that isn't enough. We also prized programs where faculty hold advanced academic and research qualifications. Teaching is a skill of its own, and academic prowess is a gift that helps instructors present their own skills and knowledge to you in ways that are easy for you to understand. Research skills ensure that instructors not only teach you the latest nursing techniques, but that they're actually involved in developing them. We always give a second look to schools where professors have a strong track record of publication in prestigious industry journals.
Major Healthcare Center Affiliations
In the same vein, the ways in which a school is connected with healthcare in the community is something you need to think about. At the best schools, it's not just a pipeline for clinical rotations and potential employment for graduates, it's a true partnership in which area healthcare providers and the broader healthcare community is either part of or partnered with the school of nursing.
We looked almost exclusively at schools that have affiliations with top-level healthcare organizations in their area. Whether that means they are associated with a prestigious teaching hospital, or simply have great connections through alumni and practicum slots with local and regional medical centers, those kinds of affiliations unlock valuable experience and options for students. It's this connection that gives you the benefit of being supervised by, and learning from, some of the best medical professionals across a range of specializations.
Not only are you likely to get the sort of practicum placements you are interested in, but you are more likely to find them in well-equipped facilities, with the kinds of patients and cases that really give you the exact practical hands-on experience you need for the specific advanced practice leadership role you'll be stepping into.
Almost every DNP program talks about interprofessional education; the schools that made our list deliver.
Emphasis on Evidence-Based Practice
Finally, we gave preference to schools that are really making a difference in the field right now. A major component of advanced nursing education is translating research findings into clinical practice, and out in the clinical environment is where where that research rubber meets the road and evidence-based practice is put to work. If you are going to move to the top tiers of the nursing field, it makes sense to go where that evidence is being discovered.
<!- mfunc search_btn -> <!- /mfunc search_btn ->
To align faculty research with advanced practice education, the best schools get students actively involved in that research… or even encourage independent projects. Whether it's the chance to participate in writing a journal article with a highly respected instructor, or forging ahead with your own independent research project as part of your capstone work, all of the schools that made our list deliver meaningful, groundbreaking research opportunities for students.
2023 State-by-State Guide to the 50 Best DNP Programs in America
In an era when NPs, other APRNs and even nurses outside of direct patient care are becoming heroes, you owe it to yourself and your future patients and staff to get the best preparation possible. There are more than 200 outstanding schools out there offering fully-accredited DNP programs with both post-BSN and post-MSN entry points, and among them are 50 that stand even taller than the stand-outs. It's these 50 schools that have earned  the distinction of being called the very best.
---
Alabama / Arizona / Arkansas / California / Colorado / Connecticut / District of Columbia / Florida / Georgia / Idaho / Illinois / Indiana / Iowa / Kentucky / Louisiana / Maryland / Massachusetts / Michigan / Minnesota / Mississippi / New Jersey / New Mexico / New York / North Carolina / Ohio / Pennsylvania / Tennessee / Texas / Virginia / Washington / Wisconsin