State-by-State Guide to the Lowest Priced, Fully-Accredited DNP Programs in America
Every profession has a pinnacle, a level of education that you can reach that is widely recognized as placing you among the top ranks in terms of both knowledge and reputation. For most, that's the Doctor of Philosophy, the esteemed PhD. But in the nursing field, there is also another option: the Doctor of Nursing Practice.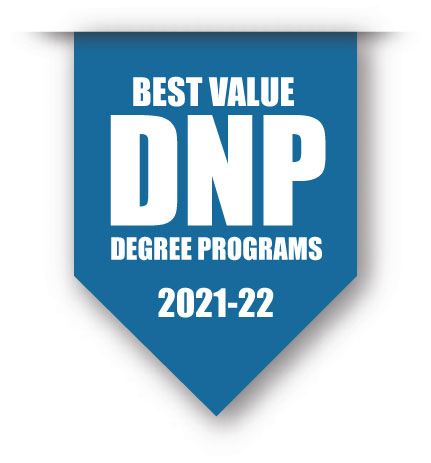 A DNP is the ultimate prize for any nurse who puts practical, rubber-meets-the-road nursing skills and knowledge over theoretical, research-derived knowledge. It offers nurses a practice-oriented path designed for advancing in or into direct patient care or systems-focused areas of nursing, instead of careers in academia and research like a PhD.
It's hard to put a price on the kind of knowledge and analytical skills you get with a DNP, and that means it isn't the sort of education that comes cheap. The DNP always represents a sound investment, but it's still a significant one, so finding options that offer a real value for your tuition dollars should be part of the overall strategy for advancing your education and your career.
Today's Top Degree Might Be Entry-level Tomorrow
Today, DNPs are widely looked up to and tend to hold managerial and executive positions and leadership roles. But with the widespread push to make the DNP the new minimum in advanced practice nursing, it could soon become the standard rather than occupying a niche spot as the gold standard… It's nice to be at the top, but it's even better to be mandatory.
Right now it's still more a conversation than a reality, but if it comes to pass it's a move that is expected to raise the standards of knowledge and professionalism in the field, and likely make it easier for APRNs to achieve independent practice authority in those states where it is not currently allowed.
In fact, the Council on Accreditation of Nurse Anesthesia Educational Programs has already made the leap, requiring all new nurse anesthetists to earn a DNP before licensure by 2025.
<!- mfunc search_box_body ->
<!- /mfunc search_box_body ->
<!- mfunc feat_school ->
Post-BSN and Post-MSN DNP Programs: Entry-Points for Bachelor's and Master's Prepared Nurses
With very few exceptions, DNP programs require you to hold a current, active RN license and a BSN at minimum. But most nursing doctoral students still take the more traditional route by coming into the DNP with a master's degree in the field, the current established minimum for APRN licensure.
That's one of the unique features of the DNP, a two-entry point system, one for students who have a bachelor's in nursing and one for traditional students with an MSN. Most schools offer both entry points as a way to cater to both BSN- and MSN-prepared RNs, as well as APRNs interested in expanding their clinical and leadership skills:
BSN-DNP for bachelor's-prepared RNs – Because BSN-DNP programs can provide a path to APRN certification in all roles and patient populations, post-BSN DNP programs with a track in direct patient care typically include the essential elements required for becoming licensed in one of the four advanced practice roles (NP, CNS, CNM, or CRNA). That means they include everything from clinical practice hours to general advanced practice and role-specific curriculum.
MSN-DNP for APRNs and master's-prepared RNs – But if you already have your license, you can still pick up a post-licensure DNP specifically designed to let you advance and develop leadership skills in your current role and patient population focus, meet the qualifications for an additional patient population focus or specialty certification, or transition out of direct patient care all together to take on a systems-focused role – and you can do it without duplicating any of the clinical practice hours and specialized courses you already have under your belt.
<!- mfunc search_btn -> <!- /mfunc search_btn ->
Of course, not all master's-prepared nurses are APRNs, so some nursing schools offer DNPs with a tailored track to allow MSN-prepared RNs to take a shorter path to becoming a licensed NP or other advanced practice nurse.
You can also find post-MSN DNP tracks specifically designed to allow NPs and other advanced practice nurses to add a second certification in an additional patient population focus or specialty. But generally, post-licensure MSN-DNP programs focus on advanced clinical concepts and leadership skills that build on what you learned in your MSN. That means courses in areas like healthcare informatics, clinical education and organizational leadership, all of which align with the leadership and mentorship functions that DNP nurses fulfil.
While post-BSN programs in direct patient care also include those types of courses, since they are designed to prepare RNs for initial APRN certification and licensure, they also have all the clinical practicum and specialty courses you need to meet the requirements to become nationally certified in your chosen patient population focus and earn an advanced practice license through your state board of nursing.
How We Identified the Top Value DNP Degree Programs
A low tuition rate doesn't mean much if you had to make big compromises on the quality of the program to get it. The idea behind a great value in education is to get everything that makes for an exceptional student  experience without paying top dollar. That's why we start by considering basic quality measures before even looking at the tuition rates
Specialty Accreditation is a Must When Considering DNP Degrees
Even the least expensive degree doesn't offer you any value if it is not seen as a comprehensive education in the eyes of your employer and colleagues in the medical community. And the quality stamp that community relies on is specialty accreditation from either the Accreditation Commission for Education in Nursing (ACEN) or the Commission on Collegiate Nursing Education (CCNE).
These independent agencies are recognized by CHEA (Council for Higher Education Accreditation) and the Department of Education as having the expertise and authority to set standards for advanced nursing education and evaluate programs to make sure they meet and continue to maintain those standards.
By maintaining close ties to the nursing community, these accreditors are able to look at all the different factors that impact your education, including everything from clinical placements, curriculum, and research opportunities, to instructors, facilities and the technology used for training and delivering curriculum online.
Together, they establish a baseline of quality that we all can count on, and so ACEN and CCNE-accredited schools are what we looked at when doing our tuition rate analysis. You can be sure, every program on this list has been accredited by one of these two agencies.
Tuition Evals of Accredited Programs Show Us Where the Best Value Is
Our selection process for the schools that made this list was straightforward. We took the published per-credit tuition rates for each school, then used them to determine the average per-credit tuition rate for each state. Since our list includes both shorter, and generally less expensive, MSN-DNP programs, as well as the longer and more expensive BSN-DNP programs, a comparison of the per-credit rate was the best way to perform an equitable comparison in our pricing analysis.
We found the average cost of public and private schools in each state separately to account for the differences in funding mechanisms and requirements between those two types. Private schools can rarely compete with the deep discounts state residents get at public schools courtesy of subsidies. But private schools often offer a better option for international and out-of-state students who would be paying much higher non-resident rates if they went to a state school. In the end, we compared only private to private and public to public to find the lowest priced option for each category in each state.
<!- mfunc search_btn -> <!- /mfunc search_btn ->
Each school that had a per-credit tuition rate that came in below the state average for its category is included on the list, but we made a few exceptions for schools with rates that came in just above it. In states that did not have more than one school in each particular category, we have listed the sole school unless the tuition exceeded regional standards for low-cost schools.
2023 State-by-State Guide to the Best-Priced ACEN- and CCNE-Accredited DNP Programs in America
With so many of these programs offered online, you have a lot of choices; and as important as price might be, it's not the only thing to consider. That's why we also included all the other information you need before you can decide if a program is right for you:
Concentrations
Class formats and full or part-time options
Facilities or resources available
Practicum options
Funding sources
Faculty qualifications
There are dozens of factors that will shape your decision, and we give you as much information as possible to get you started. With this list, though, you can be sure that no matter what your choice, it's going to be a lot less expensive than comparable programs out there.
---
---
There are no listings for Maine at this time.